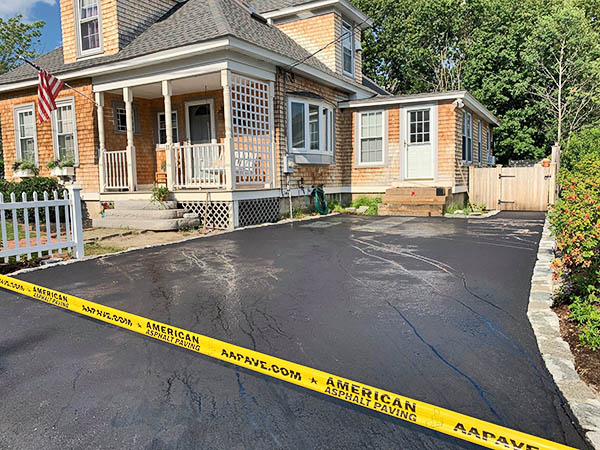 For residential homeowners in Manchester,
Nashua
, Concord, Bedford,
Derry
, and all across New Hamshire, American Asphalt Paving LLC are the local trusted driveway paving experts. With years of experience with a wide range of asphalt paving projects all over New Hampshire, property owners can trust we can tackle any type of landscape and create a durable, beautiful asphalt driveway that will stand the test of time.
Residential Asphalt Driveway Paving FAQs
Let our pavement experts answer your questions about asphalt paving for residential driveways.
What is asphalt pavement?
In short, it's the black pavement used on roads. Asphalt is a mix of what the pros call aggregates, sand or gravel, suspended in a slurry of petroleum products that are liquid at high temperatures and solid after curing.
What are the advantages of asphalt for driveways?
Because asphalt is specially formulated for vehicle traffic, it's an ideal driveway paving material. Concrete driveways easily crack with weather, are more expensive to install, and can be damaged by grease from vehicles.
What's the asphalt driveway paving process?
Your pavement company will first design your new driveway by consulting closely with homeowners or HOAs, ensuring that the driveway meets all municipal requirements and integrates smoothly with the roadway.

Next, contractors prepare the site to ensure proper drainage.

After installing a gravel base, paving contractors will apply a thick layer of hot asphalt.

Asphalt usually needs 24 hours to properly cure; after that, it's ready to use!
True asphalt pros will work closely with the property owner to create a driveway maintenance plan.
What do homeowners need to do to prepare for driveway paving?
Nothing but contact their trusted local paving company! Reputable professional pavers will work with integrity and transparency to keep residents safe during asphalt installation and maintenance work.
How do you get the best asphalt driveway?
The most important factor is choosing the right paving company to install your residential driveway. Find a company that not only has experience with different paving projects, but also understands how local weather affects pavement.
Your Trusted Local Driveway Paving Company
In southern New Hampshire and surrounding areas, the best driveway paving company is American Asphalt Paving, LLC. They are locally grown and headed by a third generation paving contractor, so we understand both our local area and all aspects of asphalt pavement. Contact us today for a consultation about your NH residential property.